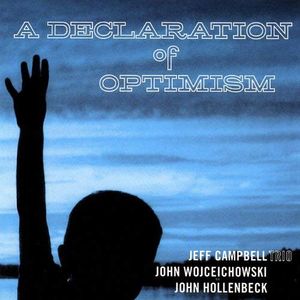 I was asked to write notes for Jeff Campbell's CD: A Declaration of Optimism. 
Jeff Campbell (double bass and compositions) 
John Hollenbeck (drums)  
John Wojciechowski (tenor saxophone)
Jeff Campbell Trio 
A Declaration of Optimism by Chris Jentsch
When was the last time you sat down and listened to a whole record from front to back? If you're life is anything like mine, maybe it's been awhile. I hear a good amount of music but lately I've been listening in shorter, concentrated bursts. I swear…I'm glad to continue being in this world, but in the rush of the day to day I try not to be merely of it. Which reminds me of how this record is beyond jazz but so completely of it at the same time. 
According to Merriam-Webster, optimism is an inclination to put the most favorable construction upon actions and events or to anticipate the best possible outcome. Jeff Campbell, by example, has quietly advocated this philosophy for as long as I've known him so it's no surprise that it should emerge formally in this "declaration". The performances here are completely contemporary in sound and feel, but so deliciously austere in their foundational elements, buoyantly presenting compositions with the trio's classically elegant acoustic sound as opposed to making jazz purism a tedious point of departure. 
One of the things I like about this record is that it isn't 79 minutes long. At 47 minutes it makes the impression of a complete and crafted statement, not a media dump of everything that might have been done in the session. It is a headphone record actually, and it is in that listening environment generally that one can best appreciate the nimble wooden edifice of Jeff's sound, each varied nuance of Hollenbeck's graceful gestures, and the grit and beauty of Wojciechowski's tone. 
Jeff is a connoisseur of the hallowed one-horn trio format, standardized in jazz (like saying "Pierrot ensemble"), a challenging yet rewarding configuration that can even be more about note against note than jazz trios led by contrapuntally inclined pianists or guitarists. Snatches of Jeff's bow certainly contribute to the beyond genre feeling. He fills out the sound of the trio by slipping into the upper register at key moments, contributing fully to theme statements in deliberate close intervals with sax notes, beyond just staking out the bass register. 
Like much of this record, the title track suggests to me a sound that is much older than jazz. The theme uses a relaxed combination of tertian and stepwise harmonic moves, largely eschewing the cycle of fifths progressions that can date the sounds of these particular instruments to certain decades. This is underscored by Hollenbeck's faster quasi-African 12/8, continuously variegated in accent and timbre. I'm probably reading into it too much but the combination of these elements with the calm but intense improvisations implies manifold cultures and ancient eras, beyond genre, almost prayer-like in its invocation for optimism as an actual source for good results, with an ending that embodies the difference between predictability and inevitability. 
"Tower of Glass" draws on a great idea (see Jeff's track comments). It sounds totally loose (in a good way) despite the repeating figurations in some of the written head, perhaps taking a whiff of so-called minimalism through the group's warmer rhythmic personality. "By Another Way" boldly takes a gradually escalating tempo idea for a spin, providing good groove contrast with the steady compositions on the record. "Gregorian" more explicitly reminds me of this 'music of the ancients' idea with its sober mood, resolutions to the octave and perfect fifth, and its comfort level with the sound of subtly shifting diatonicism. 
Seeing the title "South of Las Vegas" I expected a party-type tune with 'a little more bite and a little less bark', but I was interested instead to hear this sometimes disturbing tone poem that never loses grip of the hopefulness that is at the album's core. Sounding in its right place on this program, I like how in Wojciechowski's "Duplicity" the composer comps in places with his tenor for both the bass and drum solos…in different ways. In their ballad performance of "The Question Is", the simplest parts of the counterpoint somehow still have all the implications of the harmonic extensions. Covering Sco's "Wabash III" the trio reminds us that they're also in and of this world. 
The bluesy "Hoot Gibson" recalls the earlier part of the record, giving me a sense of the presentation's wider shape, yet still it works as a satisfying closer. It seems to fall into a standard blues progression silhouette only when the bass drops out for a nice sax/drums duet, giving what might seem like a straightforward tune a compositional richness beyond the norm. 
Due to the timeless nature of the music I don't miss standards from the jazz/popular repertoire on this recording, even though they occupied strong corners of their first disc, 2003's West End Avenue (worth seeking out). The trio also seems to abstain from the kinds of climaxes one hears at the ends of solos in certain kinds of journeyman jazz. This is not to say that the improvisations sound unfinished, or that the music isn't exciting, or that mainstream jazz can't be fresh and vital, quite the contrary. They usually wind up by winding down because this is a group music in which an orgiastic drop from a cliff at the end of a solo would be a vulgar disruption of the overall statement's flow. It reminds me of what Glenn Gould wrote about the Goldberg Variations: "It is, in short, music which observes neither end nor beginning, music with neither real climax nor real resolution… It has, then, unity through intuitive perception, unity born of craft and scrutiny, mellowed by mastery achieved, and revealed to us here…" 
Lastly, I just want to thank Jeff for a great excuse to listen to a record all the way through. Paraphrasing Radiohead (from "Optimistic"), the best they can is good enough. More so, in fact. 
Chris Jentsch ©2009