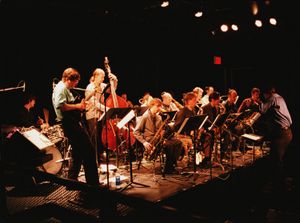 Liner Notes of the Brooklyn Suite CD 
Chris Jentsch – Brooklyn Suite 
by Howard Mandel  
The great borough of Brooklyn, New York City's most populated constituent part, is the place to be, here and now –- so proudly proclaims Brooklyn Suite, composer-guitarist Chris Jentsch's sublime set of interwoven themes and expansive movements for guitar and orchestra, celebrating his initiation and immersion into, embrace and absorption of a uniquely universal hometown. 
Jentsch was born and raised in southern New Jersey, and through his youth played in top 40 rock bands. During his teens he began investigating an ever-broadening range of influences, from Bach to Miles, Jeff Beck to Jim Hall and Wes Montgomery, Palestrina to Zappa. He pursued formal studies at institutions including New England Conservatory and the Eastman School of Music, and composed his Miami Suite for guitar and large ensemble (which he recorded as conductor, but has never performed in concert) to complete his doctorate at University of Miami. 
He arrived in Brooklyn in 1999 – "almost as a fluke," he allows, having felt somewhat rootless after his father's unexpected death and without immediate teaching prospects, having merely heard that some school chums had gravitated to the area. In the intervening years, however, Jentsch has become comfortably ensconced in the second floor apartment of a pleasant row house in a quiet, middle-class Brooklyn neighborhood -- secure circumstances in which his musicality has developed, deepened, matured. Brooklyn Suite is the expression of a refreshingly practical, adept and adaptable artist, one in full command of attractive, original concepts as well as the skill, discipline and insight to create compelling experiences in sound. 
From its "Opening Shards" through its "Closing Shards", Brooklyn Suite revels in a wealth of guitar textures set against a richly detailed orchestral score, which both Jentsch and his coterie of simpatico virtuosos elaborate upon in improvised solos. "I use various song forms as a point of departure for group improvisation (original tunes based on a combination of melodies with chord progressions, vamps, and free improv)," he has written. "This is achieved not only through such standard methods as head/solos/head, but more often by freely developing areas of the tunes by improvising sectional forms within them." He often links tunes one to the next in sets by using improvisation. "The history of jazz is a main influence on my music," he continues, "but only one of many, so I use the term reluctantly along with a more cumbersome phrase: contemporary improvisational forms. The melodic, harmonic, and rhythmic language is 'contemporary jazz' in the broad sense, while also being inclusive of bi-tonality, the ECM aesthetic, written and improvised counterpoint informed by blues and European concert music, and sonorities and production values gleaned from the world of popular music." 
Of those casually mentioned "production values": Jentsch matter-of-factly overdubs backgrounds, counterpoint, effects and timbre-thickening line-doublings to live recordings post-performance (the basic tracks here were recorded in one take on the gig at the Manhattan concert hall Symphony Space). "The final product is more like a rock record than a jazz record," he says. "It isn't rock, but I don't know if it's jazz, either. The overdubbing concept doesn't come up much in jazz, where playing live is what's it's all about. 
"Well, some people like their music simple, some like it complicated. I think the suite is a little of both. My guitar influences are Jim Hall and Wes Montgomery, but my sounds are more Jimi Hendrix and Jeff Beck. I like 'concert music' to describe Brooklyn Suite, as that's the term applied to any living so-called 'classical' music, and it implies a wider palette than 'Here's some jazz with rock influences.'" 
It does, and so the characterization is accurate as far as it goes, if it's not nearly vivid enough to represent the affect of Jentsch's brilliant guitar beam, glistening and warm, introduced in the first moments of this album and rising at the climax of the opening track to stand alone on the second, "Inside (interlude)". In the course of its myriad twists and transformations, Brooklyn Suite breathes with so much more spirit than what we typically designate "concert music"; without being determinedly programmatic, it evokes the lush and gritty varieties of the borough's landscape, the hopes, dreams and also the challenges confronting its wildly diverse population, the swells of its history and charisma of its myth. 
The seven parts of Jentsch's suite (and his two contiguous but separate compositions, "See You In Bali" and "Our Daily Dread" which serve almost as encores) flow organically one to the next, generating new motifs, casting back to earlier motifs, just as Brooklyn itself seems to. The borough stretches east and south of Manhattan all the way to the Atlantic's shore, each of its neighborhood names resounding (at least to Brooklynites) with memories of famous and infamous names, events, establishments, scams and scrambles, forbearers, gangs and clans. Individuals settle, families and businesses take root, communities gather, but this is still New York –- one fights for a foothold, everything's always changing, hold on tight for the ride, make the most of the moment, success and struggle being locked in an eternal cycle. 
That's one way to interpret the music here, but others quickly come to mind, as Jentsch's compositions inspire cinematic reverie while confounding the construction of any single literal plot. His achievement is really too big to accommodate a simple story. And also the solo contributions of saxophonists Dan Willis ("Outside Line"), Mike McGinnis ("Follow That Cab"), Ben Kono ("Imagining the Mirror") and Andy Laster ("See You in Bali"), trombonists Kurtist Pivert ("Outside Line") and Jacob Garchik ("Our Daily Dread") and trumpeter Russ Johnson ("Imagining the Mirror") make their own points, beyond reiterating Jentsch's. Jim Whitney, double bass, and John Mettam, drums, have played with Jentsch for some 20 years, since all attended NEC, and are the core of his current working trio. He credits their ease with the orchestral material, much of it derived from tunes developed in his small group, for having guided the large group to a rhythmically tight, dynamically nuanced flow-through performance after only brief rehearsal, and points fondly to Whitney's solo of sustained, subdued intensity on "Outside" as well as Mettam's splashy exchanges with the band at the end of "Cab." 
The entire ensemble, section players included, lends itself to its leader's purposes, though, engaging with his imaginative will. Everyone seems to have his or her own Brooklyn, demonstrating that the borough is both an expanse of interdependent if sometimes isolated enclaves, and also home to two and a half million individuals (2005 census estimate). Chris Jentsch proves himself to be the rare composer and instrumentalist with the scope to demonstrate how all of Brooklyn coheres, at least as a state of mind for an adoptive son turned committed resident. His album may be heard as the musical response of a self-aware artist to a resolutely livable and workable city. Chris Jentsch is not the first artist to conjure such an in situ self-portrait and he will probably not be the last, but his soaring guitar and kaleidoscopic soundscape renders life in Brooklyn now especially dear and sweet. 
– Howard Mandel © 2006 
Howard Mandel is author of Future Jazz, editor of the Illustrated Encyclopedia of Jazz and Blues, longtime contributor to Down Beat among other publications and president of the Jazz Journalists Association. Visit Howard's blog Jazz Beyond Jazz.