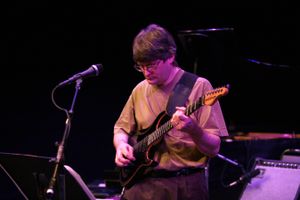 Liner Notes of the Cycles Suite CD
Being and Nothingness and Everything In-Between 
by Richard Gehr 
A primal miasma simmers and stews during the commencement, conclusion, and intermittently throughout composer Chris Jentsch's sprawling and celebratory Cycles Suite. Jentsch calls this chaotic yet compassionate cacophony of bleats, squawks, blips, blurts, whistles, and squeals The Void. It represents the emptiness surrounding the firefly twinkle of existence, and it evokes the unfathomable absence from which we enter the world, the infinite whatever into which we exit it, and the dreams, hallucinations, comas, and fugue states we inevitably drift into along the way. Amid the chaos, of course, we somehow gestate, mature, decay, and die. 
Jentsch's seventy-five-minute meditation on the life cycle is all about that tiny yet significant interregnum separating birth and death. The seventeen-piece Jentsch Group Large conveys this messy miracle through recurring themes, serendipitously echoing melodies, hard riffing, subtle connecting motifs, graceful and passionate solo excursions, shadowy corners, and happy accidents. In its scope and detail and eternally recurring inner logic, Cycles Suite may be the Finnegans Wake of big-band jazz. 
Jentsch is no stranger to the Big Theme. The guitarist-bandleader's latest work for his Group Large ensemble concludes a trilogy that began with 1999's Miami Suite and continued in 2007, following the composer's relocation up north, with Brooklyn Suite. Jentsch composed Cycles Suite specifically for the members of Group Large, the "characters in a play," as he refers to them, with whom he has worked for the past five years, most frequently his rhythm section of bassist Jim Whitney and drummer John Mettam. Rochester trumpeter Mike Kaupa, heard in Cycles's every major movement, serves as its elegant Everyman. 
Cycles Suite consists of six movements bookended by an introductory "Arrival" and an epilogic "Departure." These relatively short movements feature Brian Drye's hot trombone solos over a groove that may suggest an undisclosed location somewhere between Nigeria and the Upper Nile. Cycles's second and fifth movements, "Cycle of Life" and "Route 666," respectively, contain much of the work's metaphysical meat and likewise serve as long and luxurious cosmic brackets around the two central movements, "Home and Away" and "Old Folks Song." 
The promise of youth is embedded in the fabric of "Home and Away," an exemplary American pastoral work whose unforgettably lovely theme echoes throughout Cycles. (Don't miss Jason Rigby's intricate alto solo over one of the more "existential" harmonic challenges the composer poses his players.) "Old Folks Song," the work's shortest major movement, is a jazz waltz with an overlapping 4/4 reggae groove, and was inspired by the composer's parents. It also contains the guitarist's single extended solo, a moving and elegiac journey through complex emotional terrain. 
Cycles Suite generates more than a few exquisite crests. My favorites include the triple solo played by Jentsch, Kaupa, and trombonist Jacob Garchik in "Cycle of Life," which simultaneously offers three ingenious solutions to a robust harmonic movement. For sheer climactic excitement, though, it's difficult to top tenor saxophonist Dan Willis's exultant flurries of thirty-second notes that mark the beginning of our departure from Jentsch's resonant realm toward the end of "Route 666." 
The Void bubbles and churns sporadically throughout Cycles, and much of its pleasure lies in hearing which of its many seemingly random fragments and dream thoughts eventually evolve into melodies. That's just one of many mysteries in a work that, as its title implies, focuses on journey rather than destination and process more than goal. It's the sound of a life melting into a dream. But unlike its presumably finite subject, there's nothing to prevent listeners from taking it again from the top, one more time, with feeling. 
Richard Gehr
Brooklyn, NY 
January 2009