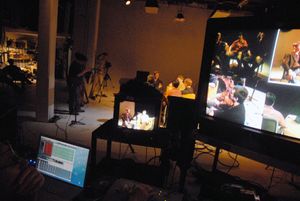 Fractured Pop liner notes
I started planning Fractured Pop circa 2002 as a small group record in the ramp up to my Brooklyn Suite (2007) jazz orchestra project. I used reference recordings of quartet rehearsals and live concerts as source material for the development of the large arrangements on that disc. This continued through the Cycles Suite era (2009) wrapping up the trilogy of large jazz ensemble projects that started with Miami Suite (1999). 
Round about 2008 we did a short run of quartet gigs and the live videotaping with Renzi, so I decided to book a full blown studio session at Brooklyn's Systems 2 to document a number of the original small group arrangements that wound up being heard first as elaborated large ensemble performances. This accounts for something over half of the titles included on Fractured Pop, so this quartet CD/DVD release is the long planned return to the small combo roots of many of those jazz orchestra tunes, truly bringing this decade and a half era full circle. 
Now that it is 2016, the good news, by some explanation, is that this initial issue is already the deluxe version of Fractured Pop. In addition to the audio CD, the companion DVD comprises the short live videotaped set, a high resolution FLAC file of the audio CD (24 bit, 88.2 kHz), alternate takes; slide show music videos, my own remix/mash ups, PDFs of lead sheets of the tunes, and a few other artifacts. 
I approached the audio recordings as if I were making a classic rock record: capture good basic tracks (keeping almost all of the live improvisations), then layer on overdubs. There were a couple of titles we fussed over (six or eight takes), but most of everything else was done in one or two takes. So the record really is an amalgam of a spontaneous jazz session with the orchestrational possibilities of a more tinkered over rock or pop project. 
Since I decided long ago to shape an archetypal '70s double album vibe, you'll notice that the audio CD is broken up into two programs. Now that vinyl is back, short of micro-producing this down to the level of the album side (which you can do by isolating obvious adjacent groupings of about three tunes), each program is meant to represent one LP of a two record set. 
Great gratitude goes to Matt Renzi, who is all over this record, but I especially wanted again to thank Jim Whitney, John Mettam, and Dave Dusman…the bassist, drummer, and engineer respectively for Fractured Pop, Brooklyn Suite, Cycles Suite, and more. 
Chris Jentsch (July 2016)