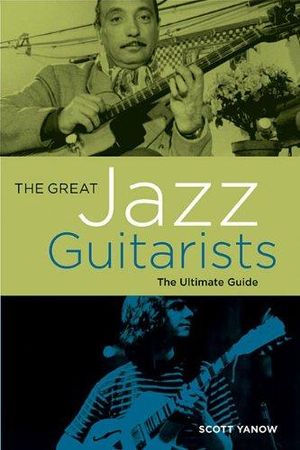 Jentsch featured in Scott Yanow's The Great Jazz Guitarists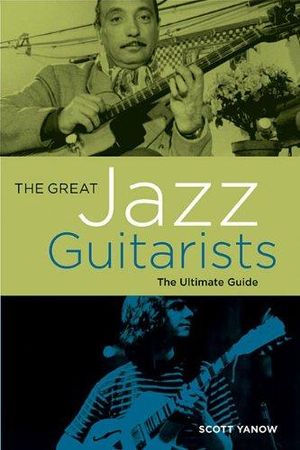 I was honored to be asked to be included in this interesting book, published in 2013. All the well-known greats are there, of course, but part of the particular value of this publication is the light shown on some of the many lesser known names associated with the instrument such as my colleagues Pete McCann, Steve Cardenas, and Ben Monder. Below is the substance of the feature on my career:
JAZZ GUITARISTS QUESTIONNAIRE by Scott Yanow 
Your full name: Christopher Todd Jentsch 
Birthdate: May 1959 
Birthplace: Philadelphia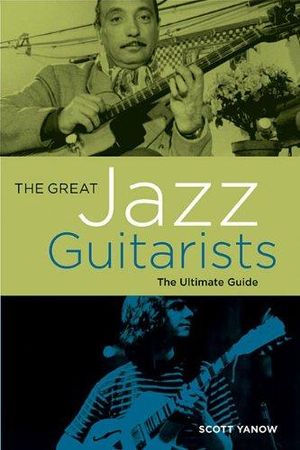 How did you happen to start playing guitar and how old were you?  
After graduating from strumming a tennis racket, I started playing rudimentary drums in a garage rock band and I was drawn to the guitar, frequently borrowing my guitarist's instrument between rehearsals until I eventually acquired my own, age 17. 
How did you originally get introduced to jazz?  
The Sinatra and Basie records in my Father's collection, and the radio…later as a staff member of a college radio station (long days and nights in the record library). 
What were some of your earliest gigs?  
Rock covers at frat-type parties. A touring top forty band. Also tuxedo "society" music and weddings in the Washington D.C. area featuring improvised medleys of standards and show tunes with hand signals from the leader for key changes.  
Have you played other instruments at all?  
Very elementary drums, some electric bass, and very limited piano (enough to use as an aid to composition).  
Who have been some of your main inspirations in life and music?  
In no particular order: my parents, my brother, my wife, The Beatles, Miles Davis, Ingmar Bergman, Monty Python, my early listening buddies, my friend Megan Weikel, Armstrong, Ellington, Bird, Monk, Ornette, Art Ensemble of Chicago, ECM Records, George Carlin, Joni Mitchell, Dylan, Tom Waits, Oregon, Bach, Beethoven, Brahms, Wagner, Varese, Takemitsu, Dutilleux, Ravi Shankar, Martin Carthy, Dave Holland, Trane, Steve Lacy, George Russell, June Tabor, Ralph Towner, Jeff Beck, Jim Hall, Hendrix, Zappa, and the smell of rain.  
Did you attend college or music schools (please state where and when)?  
Gettysburg College ('81)  
Berklee College of Music ('87)  
New England Conservatory ('91)  
Eastman School of Music ('93)  
University of Miami School of Music ('99)  
When did you know that you were going to try to be a professional guitarist?  
Still considering it.  
What was your first really important musical association and/or gig?  
Hard to say, I guess moving to NYC after going to all the schools.  
What have been some of your most significant musical associations (please include years)?  
John Mettam ('84 to the present), Jim Whitney ('87 to the present), bass player Mike Marcus ('87 to '96).  
What have been some of the highpoints and turning points of your musical career?  
Leaving a marginal living playing "society" music and little jazz gigs in D.C. for what became ten years of music schools ('87), starting to compose ('88), a farewell to Boston gig at the Middle East Café with my first small group as a leader, Planet X ('91), moving to NYC and starting a small and large group ('99 to the present), and receiving a number of composition grants to bolster the large ensemble activities (starting in 2001).  
What do you consider your best and most representative recordings thus far?  
Brooklyn Suite ('07) Jentsch Group Large  
Cycles Suite ('09) Jentsch Group Large  
Fractured Pop (CD/DVD pending '16) Jentsch Group Quartet  
What have been your main musical activities of the past two years?  
The release of Cycles Suite, and then more recently Fractured Pop (CD/DVD).  
What are your future musical goals?  
I have a lot of things I'd like to do, among them: 1) To eliminate a number of the tunes I'm currently playing and write a new repertoire. 2) To continue with small groups (trio, quartet) and also to execute other projects larger than a small group but smaller than a big band (maybe nonet), and also possibly larger than a big band (orchestra). Someday, perhaps a jazz opera if I can generate or find the right libretto and enough funding. 3) To learn about and experiment with more sophisticated digital editing software for remixing, cut/pasting, and mastering my own music, taking the raw sounds from recording sessions and producing something completely different from the original project. 4) To release the Jentsch Underground Series - a dozen or so recordings I've made since 1990 but never released. 5) Produce an "Under the Covers" project presenting the compositions of others. 6) Do more with my Web site: ChrisJentsch.com.  
What is it about jazz that makes you particularly enjoy performing it?  
The combination of improvisation, composition, history, science fiction, and personality.  
Please add any comments or information that you consider relevant to your life history or to understanding your music:  
I grew up in the suburbs in the 1960s. As an eclectic conglomerate of styles, my music sounds the way it does because of the world-wide explosion of communications technology, allowing access to music from around the world.